Reasons to
Demolish With Us
When you hire a professional demolition team, you know All you have to do is sit back and experience the freedom of a life without rubbish.
Wide range of experience
We have experience servicing many different locations. Shops, Retail Stores, Offices, Commercial Properties, Factories, Hospitals, Schools, Gyms and much more.
Shop De-fits
You will know what you pay before we start* – no surprises! Our fixed prices are quoted before the job starts!
Office Stripouts
With professional team members office strip outs are made easy with Bulldog services.
*Some variations to quote may apply for any unforeseen extra works needed to complete the job.
Demolition Services Include
Remove walls, partions, doors and windows
Any entryways, windows and office segments that have been added to your commercial work space can be removed with the windows and walls patched and plastered to restore back to original.
Dismantle any fixtures and fittings
Any fixtures or fittings that have been attached to your property will be taken out as part of our de-fit works
Uplift and removal of floor coverings
We remove any floor coverings eg. Tiles, carpet, vinyl.
Final Clean and Rubbish Removal
Bulldog will remove any fit out waste post demolition too, we charge a cubic metre rate for this service. Check out or rubbish removal.
Removal of decals, frosting and signage
Glass frosting or window decals applied to windows will be removed as part of our strip out service.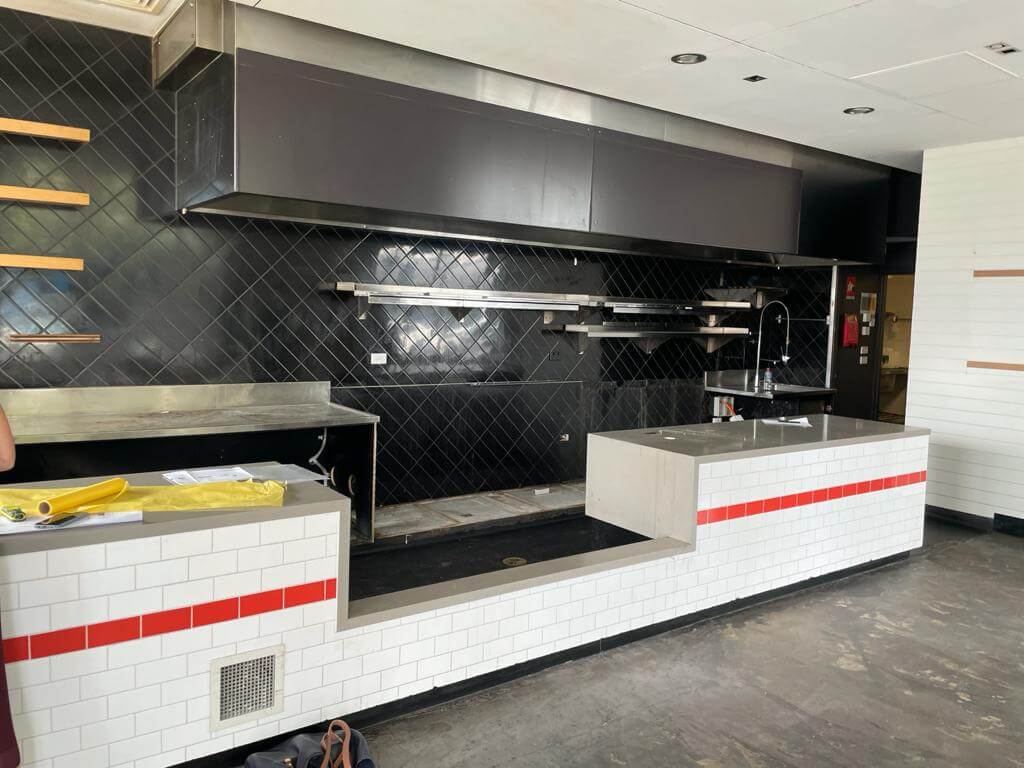 All types of flooring removed
Levelling/skim coatings
All types of wall removal (non-structural)
POS removal
Fixtures and Fittings removed
Ceiling and grid removal
Redundant power and data
Air Conditioning removal
Shop frontage removed
Glass removal
Signage removed
Furniture Removal

Work stations/Partitioning/Fixtures

All flooring removed/Walls Removed

Concrete grinding

Levelling/skim coatings

Kitchenettes/Tea Preps

Bathroom removal/stripouts

Ceilings and grid

Air conditioning

Redundant power and data
Disclaimer:
· Ensure team have free access to the work area.
· REMOVE ALL FURNITURE & appliances from your floor area & bench tops. All reasonable care will be taken but we will not be liable for damage to any items left in or around the work area.
· CONCRETE SLAB CONDITION after flooring removal will depend on the original slab condition before flooring was laid and how hard or soft you slab is. If you have a soft slab there may be holes/grooves and marks from removing your flooring. Any major repairs to sub-floor will require additional charges.
· DAMAGE. In the process of removing flooring there may be some chips to paint work, skirting boards and kitchen kick-boards around flooring area. All Caution is taken, but some tiles do shatter & may accidentally scratch paint and skirting boards.
· All paint touch ups and repairs are the responsibility of the client.
· The final condition of a TIMBER SUB-FLOOR after flooring removal depends on: How well the flooring is stuck down and the actual condition of the sub floor. Timber sub floors WILL be damaged and marked by removal nails and glue. All care is taken during the removal process, however marks and scratches to timber sub-floor CAN NOT be avoided in some areas. If sub-floor is pine or chipboard, there may be MAJOR damage and holes to sub-floor as a result of removing directly stuck down flooring. Any repairs required to sub-floor is the responsibility of the client.
· Site Power You must have SUFFICIENT POWER connected for our use, or temporary site power available.
· Minimal power will inhibit the safe operation of our machinery and delay job completion. If we have problems with insufficient power, waiting charges may apply until power is fixed or a generator supplied (at additional cost).
· Plumbing We can seal and cap off some plumbing fittings, If there is any appliances to be removed? Dishwasher, washing machine, Fridge? Relevant charges will apply. TOILETS (if being kept) should also be removed by a plumber prior to works.
· Job Access Please BE ONSITE when work is to start ensuring adequate job communication with the team on what you require. Please be on site when work is complete to sign off that you are satisfied and make the appropriate payment. If you can not be on site, then make sure the area is clearly marked. Leave a key if needed.
You should be contactable throughout our works, if we encounter any problems, or if we have any questions.
· Job site acess What is the site access; (Stairs, Lift – how many levels) Is there sufficient parking on-site for a truck or trailer? Any special instructions for access or parking requirements? If parking permits or payments are required this will be at additional cost. All CBD, Highrise and apartments will incur a labour surcharge.
Our team will access your location and collect all rubbish with no headaches for you.